Home > Products > Ring die > Shende ring die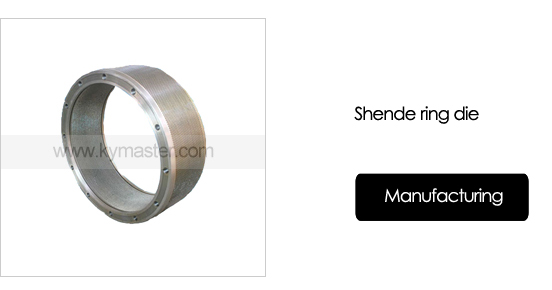 1.Shende ring die fixed by collar characteristics
1.1 Full automatic CNC ring die drilling machine is applied. The whole ring die processing is fully automatic controlled, and the holes of good smoothness are shaped at a time
1.2 Vacuum heat treatment technology reaches the most suitable working condition, which ensures the stability of ring dies.
1.3 Smooth holes make sure that pellets are of high output and quality.
1.4 Long working life
1.5 Different types and hole diameters can be processed.
2.Quality measurement of thermal treatment
2.1 Hardness
For each pellet ring die, after thermal treatment, at least 8 points shall be measured on both sides of the ring die and inner circle surface by sclerometer. The surface hardness shall be as follow: stainless steel: HRC52-55, alloy steel: HRC60-62; the differences between each points shall be no more than HRC3.
2.2 Surface quality
Ring die surface shall be much smooth after being vacuum heat treated.
2.3 Roughness of holes
Check roughness of holes by comparing the roughness of samples.
2.4 Microstructure after quenching
Observe the microstructure of material by metallographic microscope, and the microstructure shall be martensite + carbide + retained austenite.
2.5 Ring die deformation
Tiny deformation will occur after being heat treated by vacuum hardening. Measuring tools shall be applied, and make sure dimension variation range shall be +0.5~1mm.
3.Dies-steel raw materials
Our dies are manufactured in the following steels:
• X46Cr13 (i.e."stainless" steel or "chrome-steel")
• 20MnCr5 (i.e."alloy" steel)
• 18NiCrMo5 (i.e. similar to 20MnCr•5 but with a higher alloy content).
The X46Cr13 steel dies are vacuum / through hardened. The heat treatment achieves 53-55HRc hardness on the surface and in the core. The high chrome content makes it corrosion resistant. Although it costs more than a normal alloy, X46Cr13 is by far the most common material used through out the feed milling industry.
Dies made in 20MnCr5 and18 NiCrMo5 steel, hardened to obtain 60-62HRc hardness for approximately 0.8-1.2mm.
4. Normal model of shengde ring die
SDPM350,SDPM420,SDPM520,SDPM660