Home > Products > Ring die > Van Aarsen ring die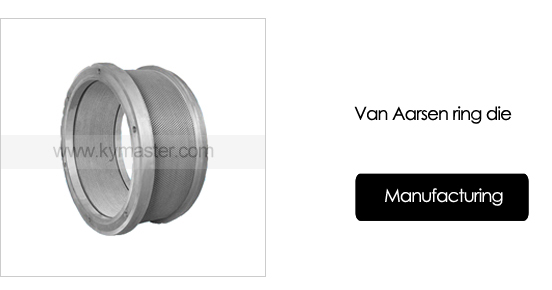 We could produce ring dies for Van Aarsen pellet mill model
Normal models of Van Aarsen ring dies, such as Van Aarsen R180, Van Aarsen R150, Van Aarsen 500 Compact, Van Aarsen C600-200, Van Aarsen C 600-225, Van Aarsen 750.215 Compact, Van Aarsen 750.250 Compact, Van Aarsen 900.275
The Material of ring dies is mainly X46Cr13 (stainless steel) and 20MnCr5 (alloy steel)
The X46Cr13 steel dies are vacuum/through hardened, heat treatment achieves 53-55 HRC hardness on the surface and in the core. The high chrome content makes it corrosion resistant. Although it costs more than a normal alloy, X46Cr13 is by far the most common material used throughout the feed milling industry.
Dies made in 20MnCr5 steel, hardened to obtain 60-62 HRC hardness for approximately 0.8-1.2 mm.
Production capabilities of ring dies
Ring die: Straight type/Stepped type
Outer diameter up to 1500mm
Taper type up to 20mm diameter
Diameter of ring die channel holes - from 1,8mm up to 14mm
Channel length from 55mm up to 104mm
Flat die: Straight type/Stepped type
Outer diameter up to 1500mm
Taper type up to 16mm diameter